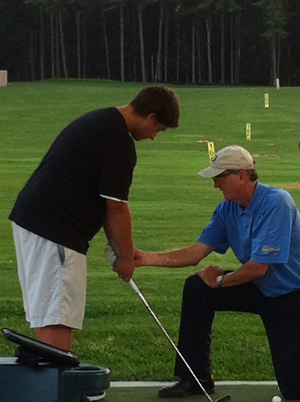 Jon Ladd, PGA
• Executive Director, Baltimore Municipal Golf Corporation
• 30 year member of the PGA of America
• Instructor, Baltimore Golf Academy
• Licensed and Trained V1 Digital Coaching System Instructor
• Middle Atlantic Section of the PGA - Junior Golf Leader 1993
• Attendee, 2011 and 2013 PGA Teaching and Coaching Summit
• Course Record Holder, Parlor City Country Club, Bluffton, Indiana 11-under par 61
• Contact Information: 410-409-6654/jladd@pga.com
• Book a Lesson with Jon
• Visit Jon's website
---
Jon uses V1 Golf Analysis software to view, analyze, and diagnose strengths as well as areas for focused improvement in his students' swings. V1also lets students compare their swings to models of similar body types to reinforce fundamentals.
Lesson Rates

60 Minute

Adult Lesson

$75.00

30 Minute

Adult Lesson

$45.00

30 Minute Junior* Lesson

$30.00

*Juniors are under age

18


More about Jon
Jon is a PGA Quarter Century Member noted for his success in achieving the one singular goal of the PGA in America--to make the game of golf more enjoyable for you. Well known in Baltimore as a first-rate golf instructor, Jon enjoys the reputation of a perceptive, adaptive teacher who offers individual and group lessons to golfers of all ages and levels of expertise. Jon has been affiliated with Baltimore City's golf courses for 32 years and is now the Executive Director of the Baltimore Municipal Golf Corporation (BMGC), a position he has held since May of 2006. BMGC manages all of the Classic 5 municipal golf courses in Baltimore and from his spot at the head of this non-profit organization, Jon is able to realize his desire to "grow golf" in Baltimore.