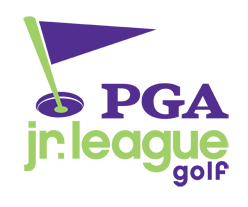 2017 PGA Junior League Golf
Boys and Girls Ages 9-13
$225
Click Here to Register for PGA Jr League
PGA Junior League Golf (PGA JLG) features team vs. team competitions in a structured league that provides a popular, less stressful scramble format as opposed to stroke-play competition. Juniors should be able to play a hole in 15 minutes, be able to walk 9 holes either carrying their clubs or using a pull cart and have at least a dozen 9 hole rounds under their belt. Participants compete in matches against teams from other facilities within the Baltimore area.
Match Schedule TBA (Anticipating Matches Saturdays 4:00PM May 13, 20-June 3, 10, 17 24)
Practice Schedule Saturday, April 8, 22, 29 May 6 4:00-5:00
Click here for additional and important information about PGA Jr. League Play
Email Julieta Stack CoachJGolf@gmail.com for more information.
---
Developmental Junior League
Ages 7-11 Boys and Girls
$150 (Includes: Team jersey, 4 practice sessions, Three 5-hole matches)
Our Developmental League also features the same fun team scramble format as the PGA Jr. League--Including team jerseys. We will help introduce and develop athletes who are newer to the game to the Jr. League format and competitive golf so they are ready to compete later this summer and in next season's PGA Jr. League. If your child has never played before, it may be best to enroll them in a series of private lessons or in the Spring Camp prior to playing in this league as most of the juniors will have some experience.
• 5 Hole matches will be held at either Pine Ridge or Mt. Pleasant.
• Coaches and volunteers will oversee practices and matches.
• Parent volunteers welcome! Please email Coach J if you are interested in helping out.

Practices: Saturdays April 22, 29 May 6, 13 from 5:00 to 6:00
Matches: Saturday May 20 June 3, 10 from 5:00-6:30
REGISTER HERE
INFO FOR PGA JR LEAGUE:
Many country clubs do not allow you to use carts or buy food or drinks.
Not my policy, just the way they are set up. Best to expect this and be pleasantly surprised if they do allow you to use a cart or buy food or beverages.
Dress Code for Juniors and Parents
Please wear collared shirts and khaki shorts or pants to matches. No jeans, please!
Many country clubs will not allow denim on their premises. Thank you. Juniors will be given team jerseys when we receive them from PGA.
PACE OF PLAY TIPS
Not all matches will have an alternate player, but those that do should move even more quickly! The Alternate is an important teammate, even when he/she is not hitting shots. The ball not chosen needs to be retrieved, the flag needs tending, the bunker needs to be raked… all important activities, and all easily accomplished by any Alternate. An Alternate, however, should be coached not to retrieve an opposing team's ball unless asked to do so by that team.Abiding by the triple bogey maximum is another way to help with pace of play. No hole in PGA-JLG can be won with a triple bogey, so encourage your players to pick up if they have not holed out after their double bogey putts or shots.

We have all seen 3-ft. putts conceded in Ryder Cup play, and we've also seen a player have to make a 1-ft. putt to win a hole. PGA-JLG is scramble format, and is supposed to be recreational and FUN! Please encourage your teams to concede short putt. It may not be the best competitive strategy, but it teaches a more important quality, Sportsmanship! It will also increase your pace of play by 5-10 minutes per match!
We realize our players are young and have to walk the nine holes (pull carts are permitted), but a PGA-JLG match should not take more than 2.5 hours if all players follow these tips.