What's the best way to start playing golf?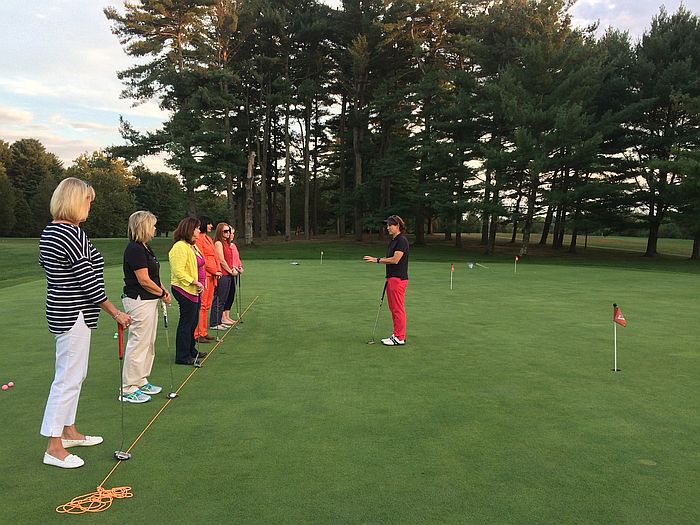 What about private lessons?

How long should it take a beginner to get out on the course?

Should I take a Level 1.0 or Level 2.0 class?
Where should I take my classes?
What should I wear? Do I need golf shoes? What about a golf glove?
I don't have equipment. Should I buy clubs prior to the class?
Where do I pay for my clinic/lesson?
It's raining where I am and class is in an hour. Should I still show up?
What's the best way to start playing golf?
Sign up for a class! Small group instruction is usually best. Choose a class that focuses on the fundamentals: a good grip, set-up, posture, alignment, the short game and the full swing.
Classes are great if you are just learning the game or trying to improve your skills as an advanced player.
If you are in a rut or trying to break a bad habit, we recommend private lessons.
Your schedule and preference for how much attention you need will also play a part in your decision.
If you are brand new to the game or haven't played in a very long time, we recommend Level 1.0.
We recommend Level 2.0 if you have some experience and have played on the course.
There are occasions where we suggest players take Level 1.0 two times. If you miss one or two classes or
really struggle with some of the techniques, the second time can be a charm!
For the most part you should frequent the facility that is closest to your home or office; the one you can get to most easily.
There are classes offered at some of our facilities that are not offered at others. You can mix and match. For instance, take a short game class at Clifton Park and a full swing clinic at Pine Ridge.
Carroll Park -- Golf course pro shop
Clifton Park -- Golf course pro shop
Forest Park -- Starters booth next to the first tee
Mount Pleasant -- Golf course pro shop
Pine Ridge -- Full swing—driving range
Short game—putting green or chipping green
Bunkers—new practice area located next to the driving range
Plan on arriving at least 10 minutes prior to your class/clinic or lesson. You want to be warmed up and ready to go as well as mentally. Give yourself a few minutes to put your day behind you and get into the proper frame of mind. If it is a playing clinic/lesson, you may want to take a little more time to warm up, so arrive at least 30 minutes prior to your appointment.
Dress comfortably. We do not have a dress code at any of the BMGC courses but there are many golf facilities in our area that do. Get into the habit of checking prior to playing to avoid any issues with attire. As for golf shoes, they are helpful but you can play in flat soled athletic shoes. Wearing a golf glove on your lead hand (the one closest to the hole) will help with your grip, and really reduce the chance of getting blisters. Gloves usually cost between $15.00 and $20.00 and are probably a worthwhile investment prior to coming to class. Check the selection of golf shoes and gloves in our Pro Shops and take advantage of your BGA Student Discount.
We will lend you clubs to help get you started. It is better to have at least some golfing experience before buying clubs. We will also give you a free standardized fitting to help make sure you get the proper fit when you do go to buy clubs. BGA students receive a discount on clubs! So be sure to check our pro shops before going elsewhere to purchase equipment.
Payments may be made online when you schedule your lesson or class, in the pro shop or at the driving range if you are at Pine Ridge. We accept: Visa, Mastercard, American Express, and checks made payable to BMGC (Baltimore Municipal Golf Corp) Identification is required when paying by check.
We require a 24 hour notice of cancellation for private lessons, classes, clinics and mini camps, NO EXCEPTIONS. If we receive notice of cancellation less than 24 hours before your appointment, you will be responsible for payment for that lesson/class/clinic/mini-camp either as a loss of lesson from your series of lessons or as a separate charge.

If you must cancel, please contact your professional as soon as possible or contact the golf course's pro shop and leave a message with a staff member. Let them know your name, who your lesson is with and a number where you can be reached

.
In the event of inclement weather, scheduled instruction may need to be rescheduled. If the weather looks threatening, we recommend you contact the golf course's pro shop to check for cancellations. In addition, we will attempt to contact you via text, email or phone in the event of weather cancellation. Please make sure to provide up to date contact information when you register for instruction.
Clifton Park: 410-243-3500
Forest Park: 410-448-4653
Mount Pleasant: 410-254-5100
Head to the driving range at Pine Ridge to work on your form and swing mechanics, but don't ignore your short game. There are practice greens at all 5 BMGC courses and Clifton Park features a short game learning facility.