PGA Junior League Golf at Pine Ridge (PGA JLG)

​2018 Registration has Closed
There are still some spots open in our
Rookie/Player League.
PGA JLG Features
Players must be registered with PGA Jr League Golf!
For password, contact Coach J.
​Juniors ages 9 to 13
Team vs. team competitions in a structured league
Participants compete in matches against teams from other facilities within the Baltimore area.
Scramble format as opposed to stroke-play competition
(Less Stress-More Fun!)
Each hole should be played in 15 minutes or less
Players should be able to walk 9 holes carrying clubs or using a pull cart
Some experience is required. Players should have played at least twelve, 9-hole rounds prior to playing on this PGA JLG team.
​You must read Tips from Coach J (See Tab at top of Window)
$225/player
Pine Ridge Birdie Machines 2018
Addison Schoch
Caitlyn Navaleza
Donovan Brookins
Jack Millman
Jack Orr
Jacob Edelson
Jada Segall
Maddy Hutsell
Peter Buttarazzi
Ryan Prinn
Trey Taylor
Tyler Slowikowski
Yehna Kim
Zach Probst
Post Season All Star Info:
MAPGA PGA Jr League Sub-Sectionals – Played with Sub-Sections of leagues formed by the section
July 28 – 29
Sub Sections and Sites – TBA
MAPGA PGA Jr League Section Championship
August 25 – 26
1757 Golf Club
PGA Jr League Regional (Carolinas and Middle Atlantic PGA) – 2 Teams from each Section Championship
September 29 and 30
Site will be announced soon.
PGA Jr League National Championship Sponsored by National Car Rental
November 15 – 19
Greyhawk Golf Club, Scottsdale, AZ
More details to come from the section for you. Here are the All Star Team formation guidelines for you. This is on page 17 of the Captains guide.
Each all-star team will be comprised of ten active players. The recommended breakdown is:
• For a seven-team league: the league champions get three spots, runner-up gets two spots, one spot each from the remaining five teams
• For a six-team league: the league champions team gets four spots, runner-up gets two spots, one spot each from the remaining four teams
• For a five-team league: the league champions team gets four spots, runner-up gets two spots, one spot each from the remaining three teams, one at large spot awarded by league Captains' majority vote
• For a four-team league: the league champions team gets four spots, runner-up gets three spots, two spots for the third-place team, one spot for the fourth-place team
• At no time, without the expressed permission of the PGA of America, will an all-star team be permitted to have more than five players on its roster from any one team in the league.
Helpful Tips from Coach J
Playing at Country Clubs
Many country clubs do not allow you to use carts or buy food or drinks. It's best to expect this and be pleasantly surprised if they do allow you to use a cart or buy food or beverages.

Dress Code-Applies to Juniors and Parents. Please wear collared shirts and khaki shorts or pants to all matches. Juniors will be given team jerseys when we receive them from PGA. No jeans, please!​ Many country clubs will not allow denim on their premises.
​About Alternate Players, Triple Bogey Maximums, and Conceding Short Putts to Speed the Pace of Play
Not all matches have an alternate player, but those that do should move quickly! The Alternate is an important teammate, even when he/she is not hitting shots. The ball not chosen needs to be retrieved, the flag needs tending, the bunker needs to be raked. All are important activities, and all are easily accomplished by any Alternate. An Alternate must not retrieve an opposing team's ball unless asked to do so by that team.

Abiding by the triple bogey maximum is another way to help with pace of play. No hole in PGA-JLG can be won with a triple bogey, so players are encouraged to pick up, if they have not holed out after their double bogey putts or shots.

PGA-JLG plays a scramble format, and is supposed to be recreational and FUN! Teams are encouraged to concede short putts. It may not be the best competitive strategy, but it allows players to practice a more important quality, Sportsmanship! It will also increase your pace of play by 5-10 minutes per match!
We realize our players are young and must walk the nine holes (pull carts are permitted), but a PGA-JLG match should not take more than 2.5 hours if all players follow these tips
ATTENTION PLAYERS, VOLUNTEERS AND MATCH GUESTS: APPROPRIATE DRESS IS REQUIRED AT BALTIMORE COUNTRY CLUB (BCC)
All Gentlemen are expected to wear slacks or conservative-length shorts, collared shrits tucked into slacks or shorts. Denim of any color, cargo shorts or pants, and foul weather suits. Short sleeved mock turtlenecks and open toed shoes of any kind are prohibited.
All Ladies are expected to wear slacks, conservative-length skirts, skorts, shorts and/or dresses (mid-thigh length at the shortest), foul weather suits, sleeved and sleeveless shirts with collars or jewel necks. Sleeveless shirts and dresses must cover the shoulder blades and may not cut in, but may have a slight taper as long as the back matches up with the front. A lady's top designed to be worn untucked is acceptable, providing the garment is hemmed and does not expose the midriff. Denim of any color, racerback, collared shirts, and open toed shoes of any kind are prohibited.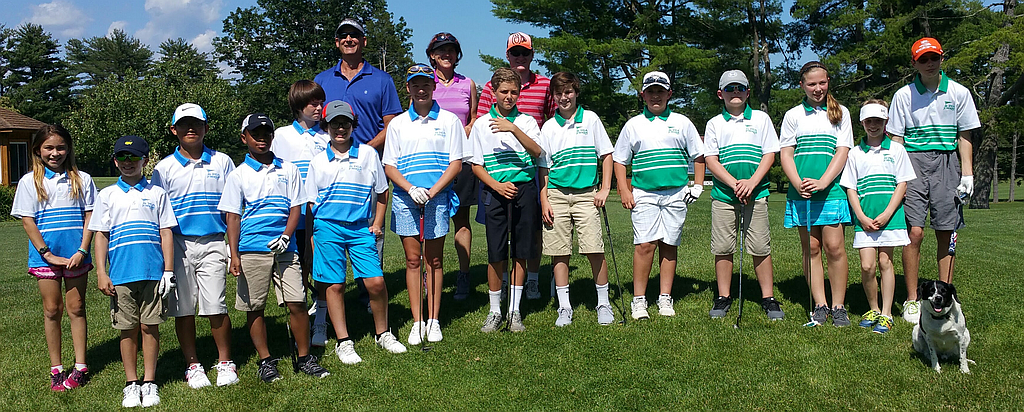 Please follow this link to the PGA Jr. League Website. It contains valuable information and will answer many of your questions.