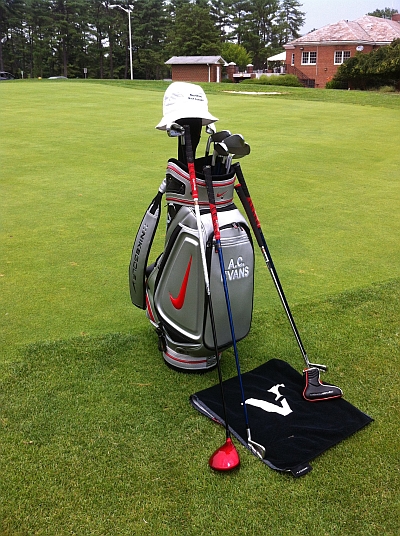 Tony Evans, PGA Apprentice
​Contact Tony: acevans@pga.com / 410-209-9559
• Golf Professional at Pine Ridge
• Junior Golf Coach
• Instructor-Group and Individual Lessons
• Certified NIKE, PING and TaylorMade Fitter
• Club repairs and regripping

What's in his Bag?
• NIKE VR_S Covert Tour Flexloft/Driver
• NIKE VR_S Covert Tour Flexloft/3 Hybrid
• NIKE VR_S Forged Irons
• NIKE Method MIdnight 006 Putter
• NIKE 20XI Balls
• NIKE 20XI Tour Bag

More About Tony
Tony began golfing as a youngster and played on both his high school and college teams. Golf remained an important part of his life while he pursued other career opportunities, but in the late 1990's Tony's love of the game led him to make it his profession and he joined the BMGC's teaching staff. When teaching, Tony provides unique guidance to help his students acquire the well timed, repeatable swing that is essential to play well. He stresses the importance of both playing and taking the time to practice. Tony's students agree that investing time in these activities develops muscle memory and confidence that are key to playing well. Tony also emphasizes the value of visualizing each shot prior to swinging the club. He teaches the importance of preparing for a shot mentally first, committing to it when addressing the ball, and then letting the swing do the work. Tony's work with young players is well known and respected. While working with Juniors at Forest Park he took the team from last place to the first place spot in only two years.
L

esson Pricing

Adults


60 minutes: $60




​30 minutes: $30


​90 minute playing lesson: $125
Series of 4 30 minute lessons: $125*
​Series of 3 60 minute lessons: $150


*Additional Players Add $25.00 each




$5 Off All Rates for Players over 60

Juniors


60 minutes: $45
30 minutes: $25
​Series of 3 60 minute lessons: $120
​Series of 4 30 minute lessons: $ 75